What Remains: The Life and Work of Sally Mann
Director: Steven Cantor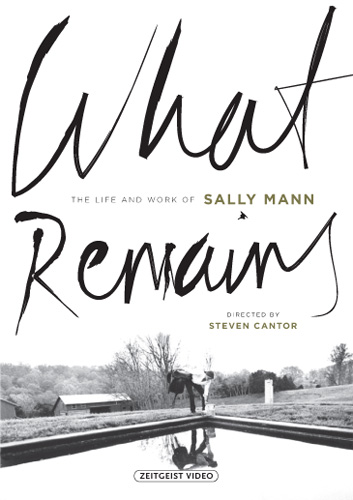 As one of the world's preeminent photographers, Sally Mann creates artwork that challenges viewers' values and moral attitudes. Described by Time magazine as "America's greatest photographer," she first came to international prominence in 1992 with "Immediate Family," a series of complex and enigmatic pictures of her own children. This work, and the controversy that followed it, was chronicled in Steven Cantor's award-winning short film, Blood Ties.

WHAT REMAINS returns to follow the creation of Mann's new seminal work: a photo series revolving around various aspects of death and decay. Never one to compromise, Sally Mann reflects on her own personal feelings toward death as she continues to examine the boundaries of contemporary photography. Shown at home on her family farm in Virginia, she is surrounded by her husband and now-grown children, and her willingness to reveal her artistic process as it unfolds allows the viewer to gain exclusive entrance to her world.

Spanning five years, WHAT REMAINS contains unbridled access to the many stages of Mann's work, and is a rare glimpse of an eloquent and brilliant artist.
LINKS:
Read about Sally Mann on the Bennington College website.
Steven Cantor
Director/Producer Steven Cantor is a graduate of the USC School of Cinema-Television and a founding partner in Stick Figure Productions.

In 1994, Steven received an Academy Award nomination for the short documentary, BLOOD TIES: THE LIFE AND WORK OF SALLY MANN about the controversial photographer. In 2002, he received an Emmy Award nomination for the HBO/Channel 4 UK documentary DEVIL'S PLAYGROUND about the rebellious tendencies of Amish youth. In 2003, received an Emmy award for his film WILLIE NELSON: STILL IS STILL MOVING, part of the 2003 PBS American Masters series.

In 2007, Steven produced I AM AN ANIMAL, an HBO documentary about Ingrid Newkirk and her PETA organization. He is currently Executive Producing the Style network hit, KIMORA: LIFE IN THE FAB LANE about fashion mogul and icon Kimora Lee Simmons, FREEFALL about a team of world class base jumpers for The Discovery Channel, and SHADOW WORKS, a series that takes a look at people who do dangerous jobs at night for National Geographic. He also has series in development for TLC, Bravo, MTV and Animal Planet among others.

In 2006, he completed the feature length documentary WHAT REMAINS for HBO, revisiting Sally Mann to follow the creation of her latest body of work on the nature of decay. It premiered at the Sundance Film Festival in 2006 and aired to critical acclaim later that year. He also produced and directed loudQUIETloud, about the reunion of the rock band, Pixies, which premiered at the 2006 SXSW Film Festival.

Steven executive produced and directed the HBO series FAMILY BONDS, about a family of bail bondsmen and bounty hunters in Queens. The show made its mark as the first documentary series ever to air as part of HBO's acclaimed Sunday night line-up of original programming. The same year, he Executive Produced AMISH IN THE CITY, a UPN reality series which drew some of the network's highest ratings ever.

Additional Executive Producing credits include # 1 SINGLE for E! starring Lisa Loeb, THE FABULOUS LIFE PRESENTS: REALLY RICH REAL ESTATE for VH1, following high-end real estate agents in Hollywood and THE BIZ, a hit on-line show for AOL and Warner Music to find the next music mogul.

Steven has directed commercials for such clients as Porsche, NFL/United Way, Dasani, and David Barton Gym.

He is married to the French-Canadian born jewelry designer, Sonya Gauthier, and they live in New York with their 4 year old daughter, Clara Blue.



Directed by Steven Cantor
Editor Pax Wasserman
Director of Photography Paul Dokuchitz
Produced by Steven Cantor, Daniel Laikind, Pax Wasserman
Producer Mandy Stein
Executive Producer Suzanne Georges
Co-Editor Sari Gilman
Original Music Billy Coté, Mary Lorson

For Cactus Three:
Executive Producers Julie Goldman, Krysanne Katsoolis, Caroline Stevens

In association with the BBC:
Executive Producer Nick Fraser

For Home Box Office:
Supervising Producer Nancy Abraham
Executive Producer Sheila Nevins