A Zed and Two Noughts
Director: Peter Greenaway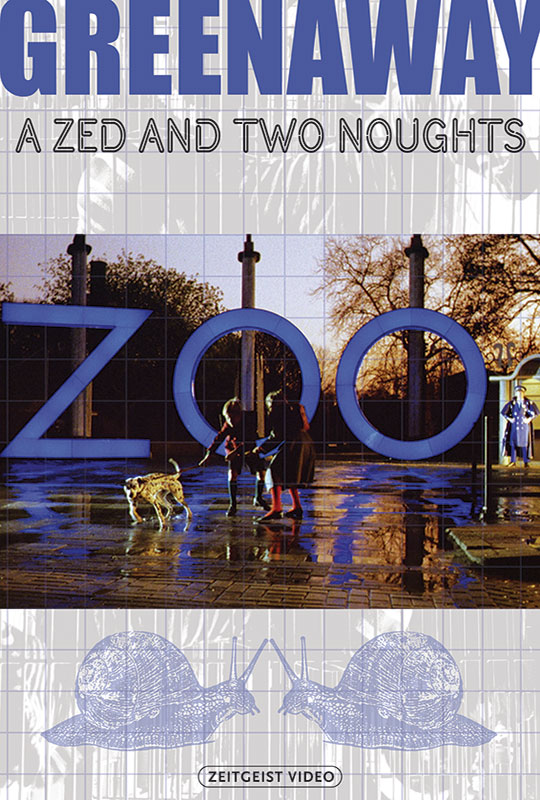 "Two legs look so good together, don't you think?" A masterpiece of modern cinema, A ZED AND TWO NOUGHTS is Peter Greenaway's beautifully disturbing and darkly humorous take on erotic obsession and death. In a horrific automobile-swan accident in front of the Rotterdam Zoo, two women die and a third, Alba (Andrea Ferréol), loses her leg. The two widowers, twin zoologists Oliver and Oswald (Eric and Brian Deacon, in roles originally offered to the Quay Brothers), fixate on their wives' bodies, and slowly become obsessed with evolution and decomposition—even going as far as to meticulously craft exquisitely morbid time-lapsed films of decaying creatures. The plot thickens when a mad surgeon schemes to use Alba as a subject in his experiments with animal symmetry and Vermeer homage.

With this follow-up to his acclaimed THE DRAUGHTSMAN'S CONTRACT, Greenaway intensifies his already striking visual style by collaborating with legendary French cinematographer Sacha Vierny to create a masterpiece of motivated light. Full of surprises and magnificent conundrums, A ZED AND TWO NOUGHTS is a perversely comic and teasing treat for the mind and senses.
Peter Greenaway
Peter Greenaway embarked on his career as a filmmaker in 1966 at age 24. After graduating from Walthamstow College of Art, he began a long period of employment as a film director and editor at the Central Office of Information, a UK government department responsible for making public information films. Both of these institutions have heavily marked his film work, bringing together a strong visual sense as befits a painter, and an obsessive exploration of the absurdity of bureaucracies and the possibilities or otherwise of the documentary form. These two elements can be seen throughout his early short films.

Throughout his career, as well as making films, Greenaway has remained active as a fine artist, exhibiting paintings at Lord's Gallery in 1964; illustrating three books in 1970 (The Alphabetical Gang Lion; Gang Lion and the Visual Flush and Tulse Luper and the Centre Walk); producing the Water Papers (a set of fifty drawings) in 1974 (exhibited at Arts 38 and Curwen Gallery in 1976) and the paintings and drawings involved in A Walk Through H (1978) and The Draughtsman's Contract in 1982.

With the making of the astonishingly successful The Draughtsman's Contract, Greenaway not only entered the domain of the feature film, but he also helped to change the face of British film itself. Bizarre, intensely personal films were no longer perceived as crazy projects but as commercially viable (with help from the newly established Channel 4). Thus began a long, successful career in which Greenaway's talents and obsession found a platform in films such as A Zed & Two Noughts; Drowning by Numbers; The Cook, The Thief, His, Wife and Her Lover; Prospero's Books; The Pillow Book and The Tulse Luper Suitcases.
Cast
Alba Bewick Andrea Ferréol
Oswald Deuce Brian Deacon
Oliver Deuce Eric Deacon
Venus de Milo Frances Barber
Van Hoyten Joss Ackland
Joshua Plate Jim Davidson
Beta Bewick Agnès Brulet
Caterina Bolnes Guusje van Tilborgh
Van Meegeren Gerard Thoolen
Stephen Pipe Ken Campbell
Fallast Geoffrey Palmer
Felipe Arc-en-Ciel Wolf Kahler
Wildlife Footage Narrator David Attenborough

Written and Directed by Peter Greenaway
Producers Peter Sainsbury, Kees Kasander
Cinematography Sacha Vierny
Production Design Ben van Os, Jan Roelfs
Editor John Wilson
Music Michael Nyman
Production Companies BFI Production/Artificial Eye Productions/Film 4 International (London)Allarts Enterprises (The Hague)