Afghan Star
Director: Havana Marking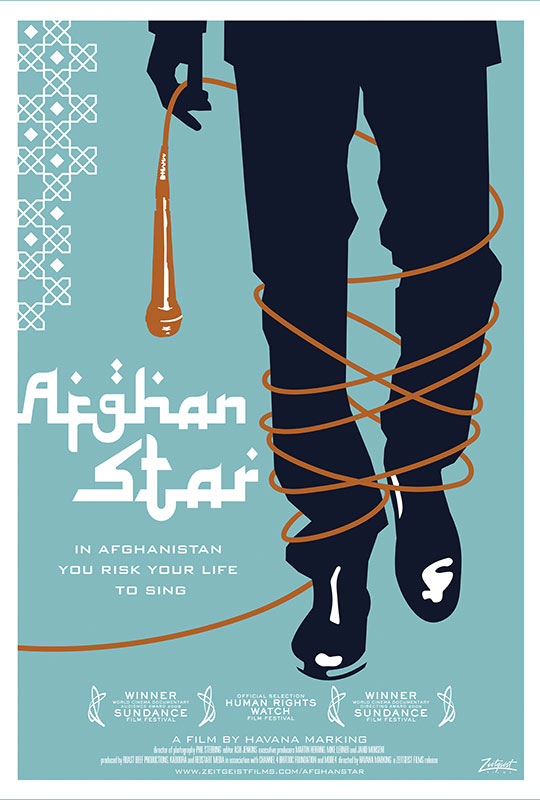 WINNER - WORLD CINEMA DOCUMENTARY - AUDIENCE AWARD
SUNDANCE FILM FESTIVAL 2009

WINNER - WORLD CINEMA DOCUMENTARY - DIRECTING AWARD
SUNDANCE FILM FESTIVAL 2009

In Afghanistan you risk your life to sing. After thirty years of war and five devastating years of Taliban rule, pop culture is beginning to return to the country. Since 2005, millions have been tuning in to Tolo TV's wildly popular American Idol-style series Afghan Star. Like its Western predecessors, people compete for a cash prize and record deal. More surprisingly, the contest is open to everyone across the country despite gender, ethnicity or age. Two thousand people audition, including three extremely brave women. And when viewers vote for their favorites via cell phone, it is, for many, their first encounter with the democratic process.

Winner of the Directing and Audience Awards in Sundance's 2009 World Documentary competition, Havana Marking's timely and moving film follows the dramatic stories of four young finalists-two men and two women-as they hazard everything to become the nation's favorite performer. By observing the Afghani people's relationship to its pop culture, Afghan Star is the perfect window into a country's tenuous, ongoing struggle for modernity. What Americans consider frivolous entertainment is downright revolutionary—and more human—"in this troubled part of the world.
Havana Marking
Afghan Star is Havana Marking's first feature documentary. Before Afghan Star she directed The Crippendales (2007) – a 30 minute film about the first troupe of disabled strippers winning the UK Channel 4 scheme for New Talent. In 2005 she made The Great Relativity Show, a series of animated shorts that explained the Theory of Relativity. These won a Pirelli Science award.

Before 2005, as a TV producer, she worked on some of the most successful UK programmes and films: The F Word,Michael Palin: Himalaya, River Cottage, No Going Back, War On Terra – What Would Jesus Drive?.

Havana is also a respected journalist with articles printed inThe Guardian and Observer newspapers. Redstart Media is her own production company.
Produced and Directed By
HAVANA MARKING

Camera & Sound
PHIL STEBBING

Editor
ASH JENKINS

Executive Producers
MARTIN HERRING
MIKE LERNER
JAHID MOHSENI
SAAD MOHSENI

Commissioning editors
SANDRA WHIPHAM (MORE 4)
MAXYNE FRANKLIN (BRITDOC)

Development Producer
RACHEL REID

Production Manager
JANET KNIPE

Translators
SAFIYA FRISTA SAID
WAIS MOHAMMED
GULALAI DAQI
WALI NAROGH

Production Team Kabul
NASIM KARIMI
AMIR SHAMIL
HABIB AMIRI
SEKANDER SALEH
REZA SHER MOHAMED
MUMTAZ
AREEF MOHAMMED
QAIS BAKHSHI
AKMAL KHALIQ
ZAKI KHALIQI

Assistant Editor
SAMIR NASIM

Production Accountant
RODNEY BROOKS

Colourist
ANDY LEE

Sound Dubbing
SCOTT WILKINSON

Post Production
ON SIGHT
FITZROVIA

Original Music Score
SIMON RUSSELL

With thanks to
BRITDOC FOUNDATION
CBA-DFID FUND