The Corporation
Director: Jennifer Abbott, Mark Achbar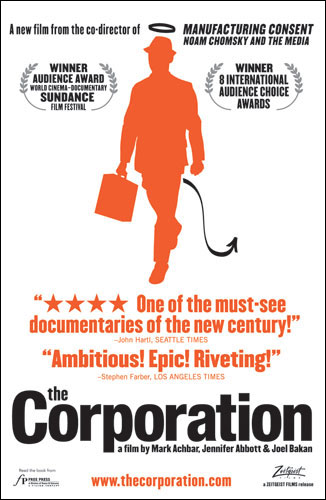 One hundred and fifty years ago, the Corporation was a relatively insignificant entity. Today, it is a vivid, dramatic and pervasive presence in all our lives. Like the Church, the Monarchy and the Communist Party in other times and places, the Corporation is today's dominant institution. But history humbles dominant institutions. All have been crushed, belittled or absorbed into some new order. The Corporation is unlikely to be the first to defy history. In this complex, exhaustive and highly entertaining documentary, Mark Achbar, co-director of the influential and inventive
Manufacturing Consent: Noam Chomsky and the Media
, teams up with co-director Jennifer Abbott and writer Joel Bakan to examine the far-reaching repercussions of the Corporation's increasing preeminence. Based on Bakan's book
The Corporation: The Pathological Pursuit of Profit and Power
, the film is a timely, critical inquiry that invites CEOs, whistle-blowers, brokers, gurus, spies, players, pawns and pundits on a graphic and engaging quest to reveal the Corporation's inner workings, curious history, controversial impacts and possible futures. Featuring illuminating interviews with Noam Chomsky, Michael Moore, Howard Zinn and many others, THE CORPORATION charts the spectacular rise of an institution aimed at achieving specific economic goals as it also recounts victories against this apparently invincible force.
Jennifer Abbott
Jennifer Abbott is a documentary maker, cultural activist and editor with a particular interest in producing media that shifts perspectives on problematic social norms and practices. In addition to co-directing and editing THE CORPORATION, she produced, directed and edited A COW AT MY TABLE, a feature documentary about meat, culture and animals, which won 8 international awards.

Her other past works include the experimental short and video installation about interracial relationships SKINNED which toured North America and Europe including New York's Museum of Modern Art. Abbott has also edited numerous documentaries, installations and performance works including TWO BRIDES AND A SCALPEL: DIARY OF A LESBIAN MARRIAGE, produced by Mark Achbar. She is the editor and a contributing writer for the book Making Video œ"In": The Contested Ground of Alternative Video on the West Coast. She lives on Galiano Island.

Mark Achbar
Working for almost 30 years on films, videos and books, Mark Achbar endeavors, through media, to challenge apathy around issues of nuclear lunacy, poverty, media control, East Timor, human rights, the religious right, U.S. hegemony and corporate power.

Achbar is best known for MANUFACTURING CONSENT: NOAM CHOMSKY AND THE MEDIA, which he co-directed and co-produced with Peter Wintonick. The film was honoured with 22 awards and distinctions, screened theatrically in 300 cities and aired on 30 national TV networks. The 2 hour-45 minute epic is the top-grossing feature documentary in Canadian history.

Achbar received a Gemini nomination for Best Writer on The Canadian Conspiracy, a cultural/political satire for CBC and HBO's Comedy Experiments. It won a Gemini for Best Entertainment Special and was nominated for an International Emmy. In 1999 Achbar worked with editor Jennifer Abbott to direct and produce TWO BRIDES AND A SCALPEL: DIARY OF A LESBIAN MARRIAGE, the comi-tragic story of Canada's first legally-married same-sex couple. The film has played world-wide in festivals and has aired in Canada on PrideVision TV and Knowledge Network.

Directed by Mark Achbar and Jennifer Abbott
Produced byMark Achbar and Bart Simpson
Edited by Jennifer Abbott
Written by Joel Bakan With Narration Written by Harold Crooks and Mark Achbar
Narrator mikela j. mikael
Based on the book The Corporation: The Pathological Pursuit of Profit and Power, by Joel Bakan
Co-Producers Cari Green, Nathan Neumer, Tom Shandel
Commissioning Editor, TVO Rudy Buttignol
Associate Producers Joel Bakan and Dawn Brett
Archival Researcher Paula Sawadsky
Sound Designer & Music Supervisor Velcrow Ripper
Original Music Leonard J. Paul
Music by Yo La Tengo - David Wilcox - Uzume Taiko - Transmo - Third Eye Tribe - Shawn Pinchbeck - Morgan/Nelken - Andy Mcneill - The Mazeguider - Loud - Loscil - Jeremiah Klein - Higher Intelligence Agency & Biosphere - Intermission - Granny - Ark - Domakesaythink - Sean D. Andrews - Mitchell Akiyama - Accent Music Productions
Director of Corporate Communications Katherine Dodds, Good Company Communications Inc.
Created by Mark Achbar and Joel Bakan
Executive Producer Mark Achbar