Diplomacy
Director: Volker Schlöndorff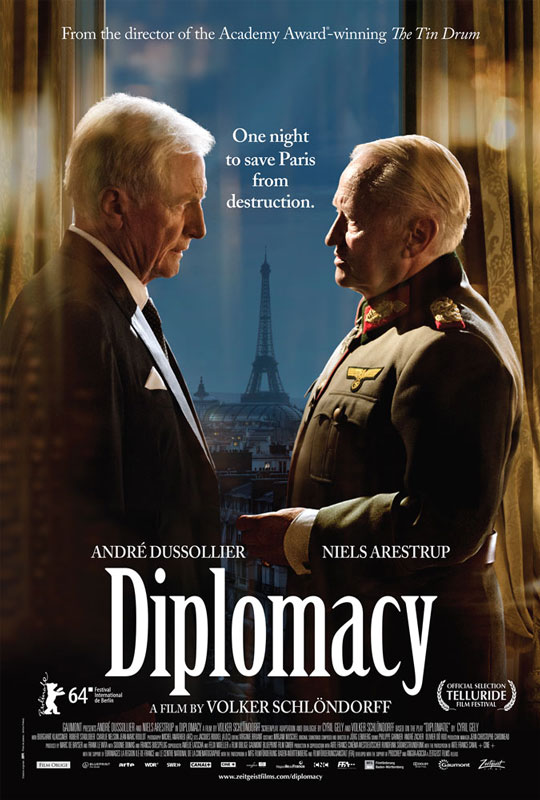 "PASSIONATE, ENGAGING AND EMOTIONAL... A fine return to form for the veteran German helmer... An elegant orchestrated pas de deux between formidable opponents."
—Scott Foundas, VARIETY

THE BEST FOREIGN FILM OF 2014
—AARP MAGAZINE MOVIES FOR GROWNUPS AWARDS

As the Allies march toward Paris in the summer of 1944, Hitler gives orders that the French capital should not fall into enemy hands, or if it does, then 'only as a field of rubble'. The person assigned to carry out this barbaric act is Wehrmacht commander of Greater Paris, General Dietrich von Choltitz, who already has mines planted on the Eiffel Tower, in the Louvre and Notre Dame and on the bridges over the Seine. Nothing should be left as a reminder of the city's former glory. However, at dawn on 25 August, Swedish Consul General Raoul Nordling steals into German headquarters through a secret underground tunnel and there starts a tension-filled game of cat and mouse as Nordling tries to persuade Choltitz to abandon his plan .

In this riveting adaptation of the stage success by Cyril Gély, the great Volker Schlöndorff (Academy Award winner THE TIN DRUM) has created a psychologically elaborate game of political manners between two highly contrasting characters. While Choltitz entrenches himself behind his duty to obey unquestioningly all military orders, Nordling tries everything he can to appeal to reason and humanity and prevent the senseless destruction of the beloved 'City of Light'.

DIPLOMACY is now on DVD and Digital.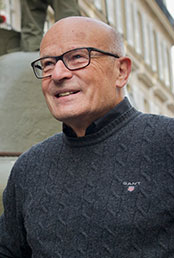 Volker Schlöndorff
One of the major filmmakers of the New German Cinema, Volker Schlöndorff was born in Wiesbaden, Germany, in 1939. He moved to France in 1956, studied in Paris, and worked as assistant director to Louis Malle, Jean-Pierre Melville and Alain Resnais. He returned to Germany to make his directorial debut in 1965 with YOUNG TÖRLESS which marked the first international success for the New German Cinema. His most celebrated film, THE TIN DRUM, won the 1979 Palme d'Or in Cannes and the Oscar for Best Foreign Language Film. From 1992 to 1997 he was head of Studio Babelsberg. He has also directed theatre and opera productions, including works by Janáček and Henze.

Directed by Volker Schlöndorff
Written by Cyril Gély, Volker Schlöndorff,
based on the play by Cyril Gély
Cinematography Michel Amathieu

Cast
André Dussollier (Consul Raoul Nordling)
Niels Arestrup (General Dietrich von Choltitz)
Burghart Klaußner (Major Ebernach)
Robert Stadlober (Leutnant Bressensdorf)
Charlie Nelson (Concierge)
Jean-Marc Roulot (Jacques Lanvin)
Stefan Wilkening (Unteroffizier Mayer)
Thomas Arnold (Oberleutnant Hegger)
Lucas Prisor (SS-Officer, Obersturmführer)
Attila Borlan (SS-Officer)
"FASCINATING... [Schlöndorff's] precise, restless camera creates a feeling of claustrophobic suspense as the plot races against the clock." – A.O. Scott, The New York Times
"Flawless... provocative and thoughtful... never ceases to compel." – Kenneth Turan, Los Angeles Times
"A LOVE STORY ABOUT PARIS. An alluring story, beautifully dramatized and acted." – Ian Baruma, The New York Review of Books
"Well-orchestrated and superbly acted." – Rafer Guzman, Newsday
"4 OUT OF 4 STARS. GRIPPING AND EXTREMELY SATISFYING... Keeps up the suspense and pulls off surprises." – Leba Hertz, San Francisco Chronicle
"FASCINATING." – David Denby, The New Yorker
"STUNNING!" – John Oseid, Forbes
"Passionate, engaging and emotional... A fine return to form for the veteran German helmer (The Tin Drum)... An elegant orchestrated pas de deux between formidable opponents." – Scott Foundas, Variety
"Filled with twists, turns and underhanded schemes that show how history sometimes lies in the hands of a selected few, not to mention a good glass of Chardonnay… One thrilling verbal duel after another." – Jordan Mintzer, The Hollywood Reporter
"In late August 1944, more than two months after D-Day, the Allies were marching toward Paris. With the liberation of the City of Light imminent, Hitler hands down an order: destroy it, starting with the bridges across the Seine, then the Louvre, and go from there. If Berlin is a wasteland, so too will be Paris. But a Swedish diplomat, Raoul Nordling (Andre Dussollier, "Amelie"), puts forth an all-night lobbying effort with the general in charge, von Choltitz (Niels Arestrup, "War Horse," "The Diving Bell and the Butterfly"), to try to get him to disobey Hitler's order. Based on official reports, which were the source of an award-winning play, the great Volker Schlondorff ("The Tin Drum") has crafted a modern-day "Grand Illusion" — a fascinating moral debate about war, by men who have their orders." – G. Allen Johnson, San Francisco Chronicle
"PACED LIKE A THRILLER...INCREDIBLE CAST... The two lead actors, André Dussollier and Niels Arestrup, are just two of the greatest actors in their country." – Leonard Lopate, WNYC