Hannah Arendt
Director: Margarethe von Trotta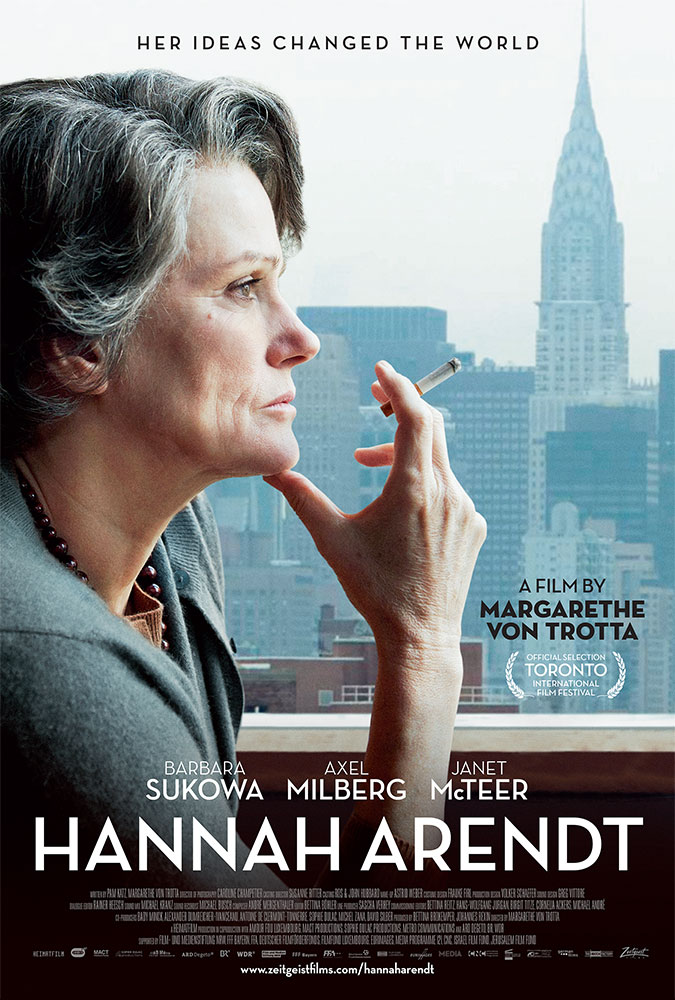 In the award-winning HANNAH ARENDT, the sublime Barbara Sukowa reteams with director Margarethe von Trotta (
Vision
,
Rosa Luxemburg
) for a brilliant new biopic of the influential German-Jewish philosopher and political theorist. Arendt's reporting on the 1961 trial of ex-Nazi Adolf Eichmann in
The New Yorker
—controversial both for her portrayal of Eichmann
and
the Jewish councils—introduced her now-famous concept of the "Banality of Evil." Using footage from the actual Eichmann trial and weaving a narrative that spans three countries, von Trotta beautifully turns the often invisible passion for thought into immersive, dramatic cinema. An Official Selection at the Toronto International and New York Jewish Film Festivals,
Hannah Arendt
also co-stars Klaus Pohl as philosopher Martin Heidegger, Nicolas Woodeson as
New Yorker
editor William Shawn, and two-time Oscar Nominee Janet McTeer (
Albert Nobbs
) as novelist Mary McCarthy.
Winner of Lola Award (German Oscar) for Best Actress for Barbara Sukowa and Silver Lola (2nd prize) for Best FilmWinner of the Audience Award for Best Narrative Film, Voices Women and Film Festival, Denver

See also the 2015 documentary VITA ACTIVA - THE SPIRIT OF HANNAH ARENDT.
Margarethe von Trotta
Born in Berlin, Margarethe von Trotta is one of the leaders of the New German Cinema movement, as well as one of the world's most important feminist filmmakers. From the early 1960s, after returning to Germany from Paris (where she encountered the Nouvelle Vague and the films of Ingmar Bergman), von Trotta then pursued acting. As an actress she worked closely with both Rainer Werner Fassbinder (notably inGods of the Plague) and her husband Volker Schlöndorff (in A Free Woman and Coup de Grace). Her directorial debut, The Lost Honor of Katharina Blum, which she co-directed with Schlöndorff in 1975, tells the story of a young woman who has a casual affair with a man she later discovers to be a terrorist. In 1977, she wrote and directed her first solo feature, The Second Awakening of Christa Klages, which introduced many of the themes that she would return to in her later films: female bonding, sisterhood, and the uses and effects of violence. Based on a true story, Christa Klages tells the story of a young woman who resorts to bank robbery in order to keep her kindergarten open.
Starting in 1979, von Trotta began a cinematic trilogy that cemented her reputation as one of the leading directors of the German new wave. Sisters, or the Balance of Happiness, describes the life of two sisters deeply joined, both emotionally and intellectually, in a symbiotic relationship that weighs heavily on them, even after one of them commits suicide. In 1981 she followed this up with Marianne and Juliane (winner of the Golden Lion at the Venice Film Festival). The film portrays two sisters - one a reporter, the other a terrorist - during the social and political upheaval of 1968 Germany. This was followed in 1986 by Rosa Luxemburg, an epic portrait of one of the leading figures of European socialism. Portrayed with stunning grace by Barbara Sukowa (who also gave an award-winning performance in Marianne and Julianne), the character is based primarily on Luxemburg's letters and diaries, and strikes a balance between the deeply personal and the exactingly political. Her more recent films include Love and Fear (1988), The African Woman (1990), The Promise (1995), Rosenstrasse (2003) and Vision – From the Life of Hildegard von Bingen (2010).
Von Trotta's son with first husband Jurgen Moeller, Felix Moeller, is a respected filmmaker in his own right and a partner with her in Blueprint Media, their Munich-based production company. In 2010, Zeitgeist Films released his acclaimed documentary Harlan: In the Shadow of Jew Süss.
Despite being seen as a leading feminist director, Margarethe von Trotta herself rejects the description of her films as the product of "women's filmmaking," arguing that it confines one to a ghetto of sorts. She believes that she should instead be seen as a filmmaker who is at once a woman, as well as a director who examines the interior of the feminine personal as well as the exterior of the political. She is also a Professor of Film at the European Graduate School in Saas-Fee, Switzerland, and remains an important personality of German cinema.
Selected Filmography

2012 HANNAH ARENDT
2010 VISION – FROM THE LIFE OF HILDEGARD VON BINGEN
2006 I AM THE OTHER WOMAN
2003 ROSENSTRASSE
1995 THE PROMISE
1993 THE LONG SILENCE
1990 THE AFRICAN WOMAN
1988 LOVE AND FEAR
1987 FELIX
1986 ROSA LUXEMBURG
1983 SHEER MADNESS
1981 MARIANNE & JULIANNE
1979 SISTERS, OR THE BALANCE OF HAPPINESS
1977 THE SECOND AWAKENING OF CHRISTA KLAGES
1971 THE LOST HONOR OF KATHARINA BLUM (Co-directed with Volker Schlöndorff)
Cast
Hannah Arendt BARBARA SUKOWA
Heinrich Blücher AXEL MILBERG
Mary McCarthy JANET MCTEER
Lotte Köhler JULIA JENTSCH
Hans JonasULRICH NOETHEN
Kurt Blumenfeld MICHAEL DEGEN

Director: Margarethe von Trotta
Screenwriters: Pamela Katz and Margarethe von Trotta
Producers Bettina Brokemper, Johannes Rexin
co-producers Bady Minck, Alexander Dumreicher-Ivanceanu, Antoine de Clemont-Tonerre, David Silber
Cinematographer: Caroline Champetier
Editor: Bettina Böhler

a Heimatfilm Production in Coproduction with Amor Fou, Mact, Metro and ARD Degto, BR, WDR

Supported by: Film- und Medienstiftung NRW, FFA, FFF Bayern, DFFF, Film Fund Luxembourg - CIAV, Film Fund Luxemburg - AFS, CNC Israel Film Fund, Jerusalem Film and Television Fund, Eurimages
"For the most up-to-date reviews please visit the Hannah Arendt website." – ,
"ARDENT AND INTELLIGENT.... TURNS IDEAS INTO THE BEST KIND OF ENTERTAINMENT.... It's probably too much to hope that Ms. von Trotta and her star, Barbara Sukowa, will do for Arendt what Nora Ephron and Meryl Streep did for Julia Child, but surely a fellow can dream.... Contemplating one of the great lives of the 20th century.... There is an undeniable nostalgic thrill in stepping into an era in New York when philosophers lived in apartments with Hudson River views.... I would not hesitate to describe Hannah Arendt as an action movie, though of a more than usually dialectical type. Its climax, in which Arendt defends herself against critics, MATCHES SOME OF THE GREAT COURTROOM SCENES IN CINEMA." – A.O. Scott, The New York Times
"THE BEST MOVIE THIS CRITIC HAS EVER SEEN ABOUT THE LIFE AND TIMES OF A WRITER!.... German titan Margarethe Von Trotta's magnificent meditation on the German-Jewish political theorist. Starring Barbara Sukowa as the title character, who lived a life few if any can match, it is major work, spartan, highly dramatic, and incredibly timely." – Brandon Harris, Filmmaker Magazine
"Even viewers who have never read a word of her books will be stirred by her intellectual and emotional courage in Barbara Sokuwa's award-worthy performance." – Deborah Young, The Hollywood Reporter
"AN OUTSTANDING CINEMATIC PORTRAIT.... Trotta has made an extremely vivid cinematic essay, thrilling in its every minute, deeply moving in its seriousness and suitably unsettling." – Elke Schmitter, Der Spiegel
"Barbara Sukowa's climactic speech as the title character in Margarethe von Trotta's Hannah Arendt is perhaps the most significant speech ever put in the mouth of an actress." – Rika Ohara, Bluefat
"As a film that takes politics and morality seriously, it is like nothing I have seen in a very long time." – Louis Proyect, The Unrepentant Marxist
"As Arendt, Barbara Sukowa is a powerfully attractive presence." – Nicole Armour, Film Comment