Vita Activa - The Spirit of Hannah Arendt
Director: Ada Ushpiz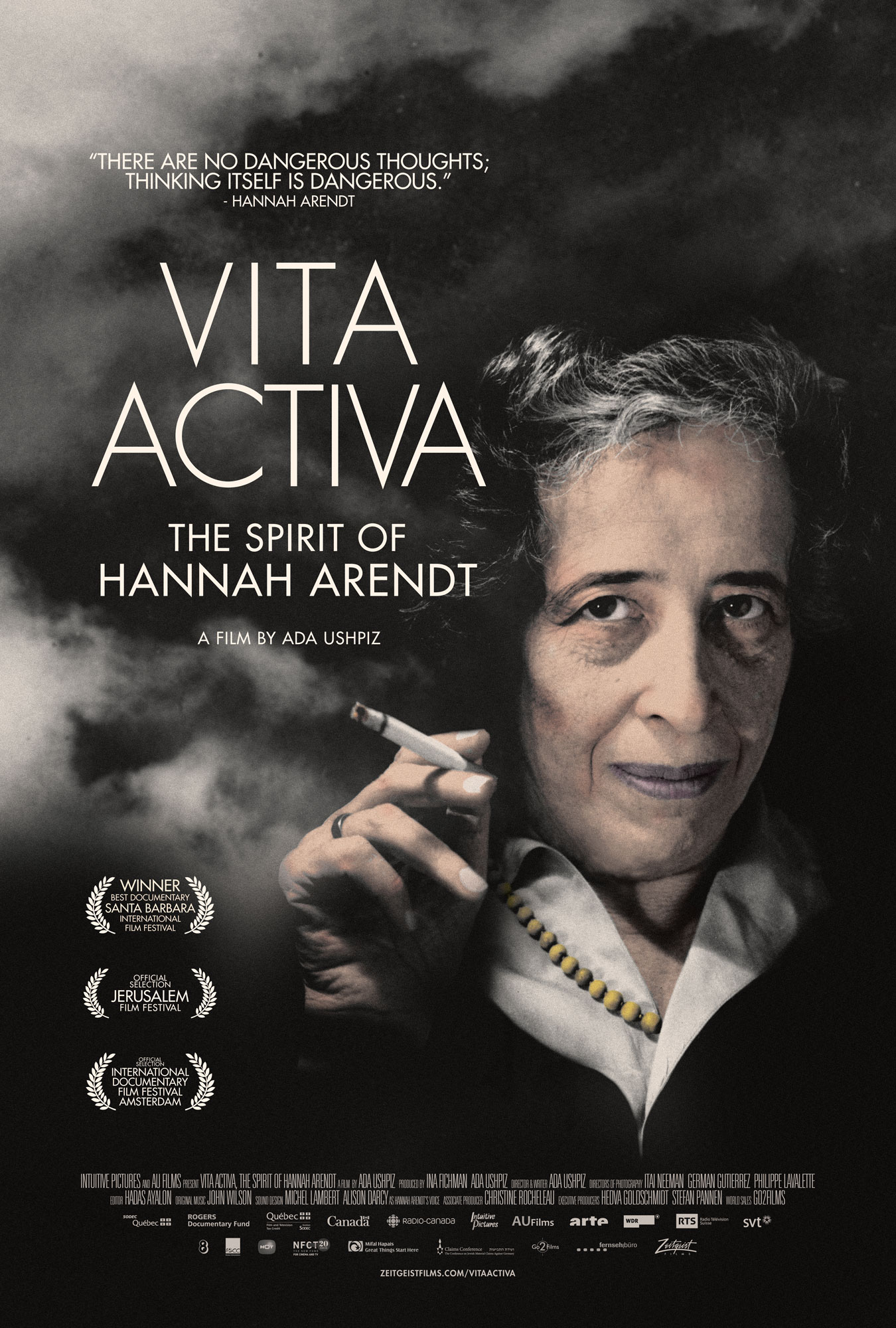 A brand new documentary about one of the most influential thinkers of the 20th century.
WINNER - BEST DOCUMENTARY - SANTA BARBARA FILM FESTIVAL
The German-Jewish philosopher Hannah Arendt caused an uproar in the 1960s by coining the subversive concept of the "Banality of Evil" when referring to the trial of Adolph Eichmann, which she covered for the
New Yorker
magazine. Her private life was no less controversial thanks to her early love affair with the renowned German philosopher and Nazi supporter Martin Heidegger. This thought provoking and spirited documentary, with its abundance of archival materials, offers an intimate portrait of the whole of Arendt's life, traveling to places where she lived, worked, loved, and was betrayed, as she wrote about the open wounds of modern times. Through her books, which are still widely read and the recent release of Margarethe von Trotta's biopic
Hannah Arendt
(also a Zeitgeist Films release) there is renewed interest in Arendt throughout the world, especially among young people who find her insights into the nature of evil, totalitarianism, ideologies, and the perils faced by refugees, more relevant than ever.
To book this film in the US please contact Nancy Gerstman or Emily Russo or call 212-274-1989. For bookings in Canada please email [email protected]. For bookings outside North America contact Go2Films.
Ada Ushpiz
Ada Ushpiz is a renowned Israeli film producer and director. She has a B.A. in philosophy and M.A. in history from Tel Aviv University and a significant journalistic experience in political-social writing for the prestigious Ha'aretz newspaper. She directed a number of remarkable documentaries in recent years - Detained (2001), Bloody Engagement (2004), Desert Brides (2008) and Good Garbage (2012) - which have been awarded numerous awards in Israel and around the world.
Produced by Ina Fichman, Ada Ushpiz
Director & Writer Ada Ushpiz
Directors of Photography Itai Neeman, German Gutierrez, Philippe Lavalette
Editor Hadas Ayalon
Original Music John Wilson
Sound Design Michel Lambert
Alison Darcy as Hannah Arendt's voice
Associate Producer Christine Rocheleau
Executive Producers Hedva Goldschmidt, Stefan Pannen
World Sales Go2Films
"CRITIC'S PICK. A vigorous and thoughtful new documentary… a broad and rich portrait of an intellectual... VITA ACTIVA, while it will surely satisfy and provoke students of 20th century intellectual history, feels more urgent than most documentaries of its kind… (and) includes some especially chilling implications for the current state of American politics." – A.O. Scott, The New York Times
"Impressively researched. Succeeds in putting the most PROVOCATIVE, SALIENT, and DAMNING aspects of Arendt's work into a lucid context." – Michelle Orange, The Village Voice
"OUTSTANDING. Wonderfully well done. Fluid and rich. This is heady stuff." – Isa Freeling, Huffington Post
"An EXCEPTIONALLY RICH, PROVOCATIVE, AND CLARIFYING documentary. FASCINATING AND COMPLEX. Filmmaker Ada Ushpiz does a WONDROUS job." – Doris Toumarkine, Film Journal
"A MASTERPIECE of documentary filmmaking that delves deep." – , Ha'aretz