Intervals
Director: Peter Greenaway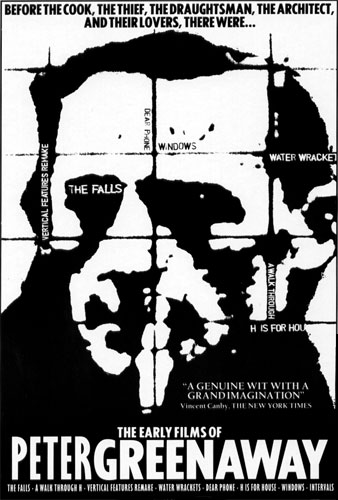 Intervals is Peter Greenaway's self-described "attempt" at creating an entertaining, abstract film—a series of bustling streetscapes from that most photogenic of cities, Venice. Using a self-conscious experiment in frame rate, and a structure borrowed from the most Venetian of concertos (Vivaldi's Four Seasons), Greenaway's increasingly sophisticated film stands as a testament to the artificiality that the cinematic medium represents.
Available as part of the DVD sets GREENAWAY: THE SHORTS and GREENAWAY: THE EARLY FILMS.
Peter Greenaway
Peter Greenaway embarked on his career as a filmmaker in 1966 at age 24. After graduating from Walthamstow College of Art, he began a long period of employment as a film director and editor at the Central Office of Information, a UK government department responsible for making public information films. Both of these institutions have heavily marked his film work, bringing together a strong visual sense as befits a painter, and an obsessive exploration of the absurdity of bureaucracies and the possibilities or otherwise of the documentary form. These two elements can be seen throughout his early short films.

Throughout his career, as well as making films, Greenaway has remained active as a fine artist, exhibiting paintings at Lord's Gallery in 1964; illustrating three books in 1970 (The Alphabetical Gang Lion; Gang Lion and the Visual Flush and Tulse Luper and the Centre Walk); producing the Water Papers (a set of fifty drawings) in 1974 (exhibited at Arts 38 and Curwen Gallery in 1976) and the paintings and drawings involved in A Walk Through H (1978) and The Draughtsman's Contract in 1982.

With the making of the astonishingly successful The Draughtsman's Contract, Greenaway not only entered the domain of the feature film, but he also helped to change the face of British film itself. Bizarre, intensely personal films were no longer perceived as crazy projects but as commercially viable (with help from the newly established Channel 4). Thus began a long, successful career in which Greenaway's talents and obsession found a platform in films such as A Zed & Two Noughts; Drowning by Numbers; The Cook, The Thief, His, Wife and Her Lover; Prospero's Books; The Pillow Book and The Tulse Luper Suitcases.