Louise Bourgeois: The Spider, the Mistress and the Tangerine
Director: Marion Cajori, Amei Wallach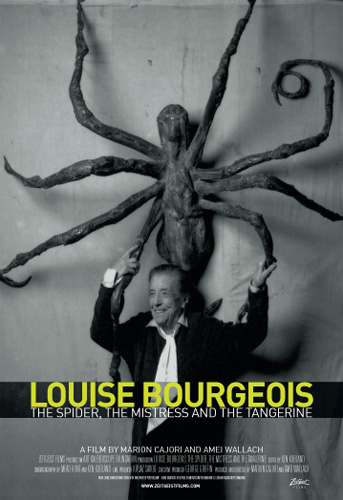 Louise Bourgeois: The Spider, the Mistress and the Tangerineis a cinematic journey inside the life and imagination of an icon of modern art. As a screen presence, Louise Bourgeois is magnetic, mercurial and emotionally raw. There is no separation between her life as an artist and the memories and emotions that affect her every day. Her process is on full display in this extraordinary documentary. As an artist, Louise Bourgeois has for six decades been at the forefront of successive new developments, but always on her own powerfully inventive and disquieting terms. In 1982, at the age of 71, she became the first woman to be honored with a major retrospective at New York's Museum of Modern Art. In the decades since, she has created her most powerful and persuasive work that has been exhibited, studied and lectured on worldwide. Filmed with unparalleled access between 1993 and 2007, Louise Bourgeois: The Spider, the Mistress and the Tangerine is a comprehensive and dramatic documentary of creativity and revelation. It is an intimate, human and educational engagement with an artist's world.
Marion Cajori
Marion Cajori was an independent filmmaker who founded the non-profit Art Kaleidoscope Foundation in 1990 to produce in-depth cinematic portraits of individual creators and their art. Her film, Joan Mitchell: Portrait of an Abstract Painter, won the prestigious 1993 Pratt-Whitney Grand Prize at the International Film Festival for Films on Art in Montreal and was cited as "One of the Ten Best Films of 1993." In 1998, PBS/WNET broadcast her Emmy-nominated special, Chuck Close: Portrait in Progress. A few weeks before her death at the age of 56 in August, 2006, she completed a full-length feature about Close and the community of artists he is associated with. Chuck Close opened at Film Forum in New York on December 26, 2007 and received rave reviews in publications from The New York Times to Newsweek. The film profiles Elizabeth Murray, Tom Friedman, Klaus Kertess, Robert Rauschenberg, and Kirk Varnedoe, among many others, as Close completes a painting from beginning to end, with a miniature camera attached to his brush.


Amei Wallach
Amei Wallach is an art critic, commentator and curator. This is her first film. She was for many years chief art critic for New York Newsday and on-air arts commentator for the "MacNeil/Lehrer Newshour." Her articles have appeared in such publications as The New York Times Magazine, The Nation, Smithsonian, New York Magazine, Vanity Fair, Vogue,Architectural Digest, Art in America and ArtNews. She has written or contributed to 11 books, including, Ilya Kabakov: The Man Who Never Threw Anything Away (Abrams, 1995), a psychological portrait of daily life in the Soviet Union; Louise Bourgeois (Storm King, 2007); Gee's Bend: Architecture of the Quilt (Tinwood, 2006), Crossroads: Art and Religion in American Life (The New Press, 2001). She won a 2006 Best Show award from the International Art Critics Association/USA for her recent exhibition Neo-Sincerity: The Difference Between the Comic and the Cosmic Is a Single Letter. She speaks and organizes panels at museums and universities in this country and Europe.
Directed by Marion Cajori and Amei Wallach
Editor Ken Kobland
Cinematography Mead Hunt and Ken Kobland
Additional Photography Nick Blair, Marion Cajori, David Leitner and Kipjaz Savoie
Line Producer Kipjaz Savoie
Produced by Marion Cajori and Amei Wallach
Executive Producer George Griffin/The Art Kaleidoscope Foundation