Poison
Director: Todd Haynes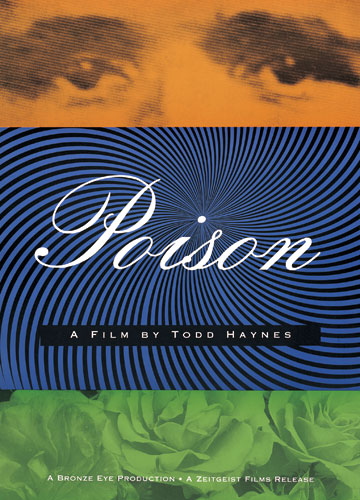 Winner of the Grand Jury Prize at the 1991 Sundance Film Festival
The second feature directed by Haynes—the Oscar-nominated filmmaker of
Far from Heaven
and
Carol
—this groundbreaking American Indie was the most fervently debated film of the early 1990s and a trailblazing landmark of queer cinema. A work of immense visual invention, Haynes' spectacular follow-up to his legendary
Superstar: The Karen Carpenter Story
is audacious, disturbing and thrillingly cinematic.
Inspired by the writings of Jean Genet,
Poison
deftly interweaves trio of transgressive tales-"Hero," "Horror" and "Homo"-that build toward a devastating climax. "Hero," shot in mock TV-documentary style, tells a bizarre story of suburban patricide and a miraculous flight from justice; "Horror," filmed like a delirious '50s B-movie melodrama, is a gothic tale of a mad sex experiment which unleashes a disfiguring plague; while "Homo" explores the obsessive sexual relationship between two prison inmates.
A runaway hit which made national headlines when it was attacked by right-wing figures including Dick Armey, Ralph Reed and minister Donald Wildmon,
Poison
is unsettling, unforgettable and thoroughly entertaining.
Poison was re-released on a 20th anniversary DVD in 2011

See also Dottie Gets Spanked
Todd Haynes
One of the most important contemporary American filmmakers, Oscar-nominated writer-director Todd Haynes first became known for his 1987 short film, Superstar: The Karen Carpenter Story, which used Barbie dolls as actors to trace the singer's demise from anorexia, and has gone on to become an underground cult classic. Haynes made an even bigger splash with his first feature, Poison (1991), which was awarded the Grand Jury Prize at the Sundance Film Festival and attracted nationwide controversy when it was denounced by right-wing minister Donald Wildmon. Haynes' next film was Dottie Gets Spanked, a short film which The Village Voice hailed as "A Pop Art vision of '50s suburbia." His second feature, Safe (1994), was named Best Film of the Year by leading critics at The Boston Globe, Film Comment, and Interview Magazine, among others. The Village Voice went even further, naming it the best film of the 90s. Safe also marked the first of Haynes' collaborations with widely celebrated actress Julianne Moore.

Haynes' third feature was the potent rock drama Velvet Goldmine (1997), starring Ewan McGregor, Jonathan Rhys-Meyers, Christian Bale and Toni Collette. The New York Times described Goldmine as "dazzlingly surreal," and the Cannes Film Festival honored the film with an award for Best Artistic Contribution. Far From Heaven (2002) Haynes' fourth feature was the single best-reviewed film of 2002. Starring Julianne Moore, Dennis Quaid and Dennis Haysbert, it swept critics awards across the country, including the New York Film Critics circle. Far From Heaven was recognized with four Academy Award nominations, including a Best Actress nod for Moore and a screenwriting nomination for Haynes. Haynes' most recent film I'm Not There debuted in 2007 with an all-star cast of Christian Bale, Cate Blanchett, Heath Ledger, Charlotte Gainsbourg, Richard Gere and Julianne Moore. The film earned Blanchett a Golden Globe, an Independent Spirit Award and an Academy Award nomination, and was featured on countless critics' Top 10 lists worldwide. Haynes is currently in production on Mildred Pierce, a new mini-series for HBO starring Kate Winslet. It is scheduled to debut in the spring of 2011.
CAST

"HERO"
Felicia Beacon Edith Meeks
Millie Sklar Millie White
Gregory Lazar Buck Smith
Evelyn McAlpert Anne Giotta
Sylvia Manning Lydia Lafleur
Sean White Ian Nemser
Jay Wete Rob Labelle
Dr. MacArthur Evan Dunsky
Hazel Lamprecht Marina Lutz
Officer Rilt Barry Cassidy
Edward Comacho Richard Anthony
Florence Giddens Angela M. Schreiber
Jake Justin Silverstein
Chris Chris Singh
Fred Beacon Edward Allen
Jose Carlos Jiminez

"HORROR"
Dr. Graves Larry Maxwell
Nancy Olsen Susan Gayle Norman
Deputy Hansen Al Quagliata
Prostitute Michelle Sullivan
Newscaster Parlan McGraw
Old Doctor Frank O'Donnell
Woman in alley Melissa Brown
Man in alley Joe Dietl
Narrator Richard Hansen

"HOMO"
John Broom Scott Renderer
Jack Bolton James Lyons
Young Broom Tony Pemberton
Young Bolton Andrew Harpending
Rass John R. Lombardi
Inspector Tony Gigante
Van Roven Douglas F. Gibson
Chanchi Damien Garcia
Miss Tim Les Simpson
Jamoke Joey Grant
Canon Gary Ray
Basco David Danford
Doran Jason Bauer
Preacher Ken Schatz
Guard 1 Maurice Clapisson
Guard 2 Matthew Ebert


CREW

Directed and Written by Todd Haynes
Produced by Christine Vachon
Cinematography Maryse Alberti
B&W Camerawork Barry Ellsworth
Production Design Sarah Stollman
Costume Design Jessica Haston
Music James Bennett
Editing James Lyons, Todd Haynes
Associate Producer Lauren Zalaznick
Executive Producers James Schamus, Brian Greenbaum

Inspired by the novels of Jean Genet, with quotations from Miracle of the Rose, Our Lady Of The Flowers and Thief's Journal