Rocks in My Pockets
Director: Signe Baumane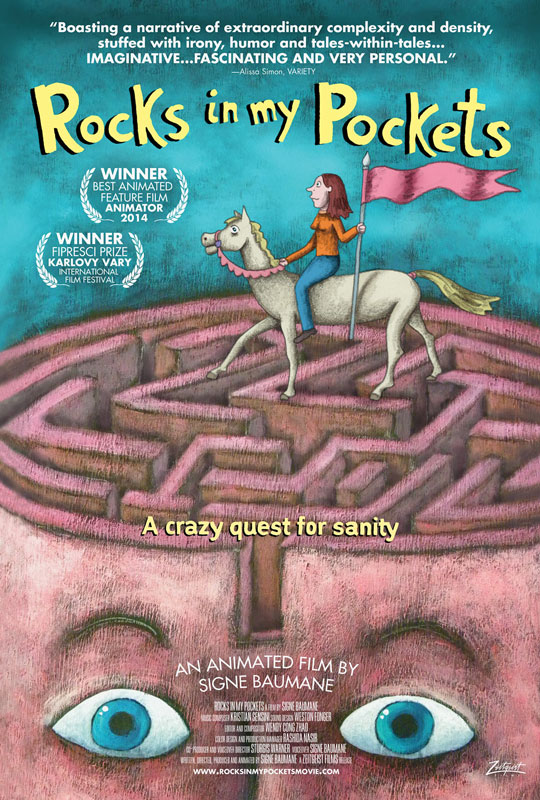 WINNER OF THE INTERNATIONAL FILM CRITICS (FIPRESCI) PRIZE
KARLOVY VARY INTERNATIONAL FILM FESTIVAL
In the new animated gem
Rocks in My Pockets
, Latvian-born artist and filmmaker Signe Baumane tells five fantastical tales based on the courageous women in her family and their battles with madness. With boundless imagination and a twisted sense of humor, she has created daring stories of art, romance, marriage, nature, business, and Eastern European upheaval—all in the fight for her own sanity.
Employing a unique, beautifully textured combination of papier-mâché stop-motion and classic hand-drawn animation (with inspiration from Jan Svankmajer and Bill Plympton), Baumane has produced a poignant and often hilarious tale of mystery, mental health, redemption and survival.
ROCKS IN MY POCKETS is now available for home viewing on DVD and VOD. Click here for more information. For educational and institutional DVD orders click on the Educational Orders button on this page.
Signe Baumane
Signe Baumane was born in Latvia. She received a BA degree in Philosophy from Moscow State University in 1989. Eight months after giving birth to her son she was checked into a mental hospital and diagnosed as manic-depressive. Despite the diagnosis, Signe made three animated short films in Latvia before moving to New York in 1995. In New York she continued to work in the field of animation and made twelve more award-winning animated shorts. Her films have screened at Sundance, Berlin, Annecy, Venice, Tribeca and hundreds of other film festivals around the world. Rocks in My Pockets is her first feature film project.


WRITTEN, DIRECTED, PRODUCED & ANIMATED BY
SIGNE BAUMANE

VOICEOVER
SIGNE BAUMANE

CO-PRODUCER/VOICEOVER DIRECTOR
STURGIS WARNER

MUSIC COMPOSED BY
KRISTIAN SENSINI

EDITOR/COMPOSITOR
WENDY CONG ZHAO

SOUND DESIGN
WESTON FONGER

COLOR DESIGN/PRODUCTION MANAGER
RASHIDA NASIR
"CRITIC'S PICK! A sharp, surprising and funny animated feature, plumbing the depths of depression via her family history. Guided by Ms. Baumane's almost musically accented voice-over, this hand-drawn debut feature is based upon the mental struggles of her Latvian grandmother and other relatives. It's told with remorseless psychological intelligence, wicked irony and an acerbic sense of humor." – Nicolas Rapold, The New York Times
"Sardonically hilarious, sneakily moving... The animation comes from a scary, diabolically funny place. Imagine Maurice Sendak's Where the Wild Things Are, but much darker." – Peter Keough, Boston Globe
"Boasting a narrative of extraordinary complexity and density, stuffed with irony, humor and tales-within-tales... imaginative... fascinating and very personal... this modern milestone in animated storytelling... Unfolding at an almost breathless pace, the film boasts aces tech contributions across the board." – Alissa Simon, Variety
"Latvian-born artist and filmmaker Signe Baumane examines her family members' history with mental illness (as well as her own struggles) with HUMOR, DELICACY and EYE-CATCHING animation techniques." – Whitney Matheson, USA Today
"A Latvian family's history of depression and suicide attempts is vividly brought to life in animated form... the film explores with wit, surreal invention and insight something left far too often undiscussed... Very witty." – Boyd van Hoeij, The Hollywood Reporter
"The Latvian artist, who wrote and directed the movie (her first), has a fresh way of describing scenes and feelings, and an even more intriguing way of animating them... her family history is rife with complex characters, and she brings them all to life in a loving, if scrutinizing, way. " – Stephanie Merry, The Washington Post