Aimee & Jaguar
Director: Max Färberböck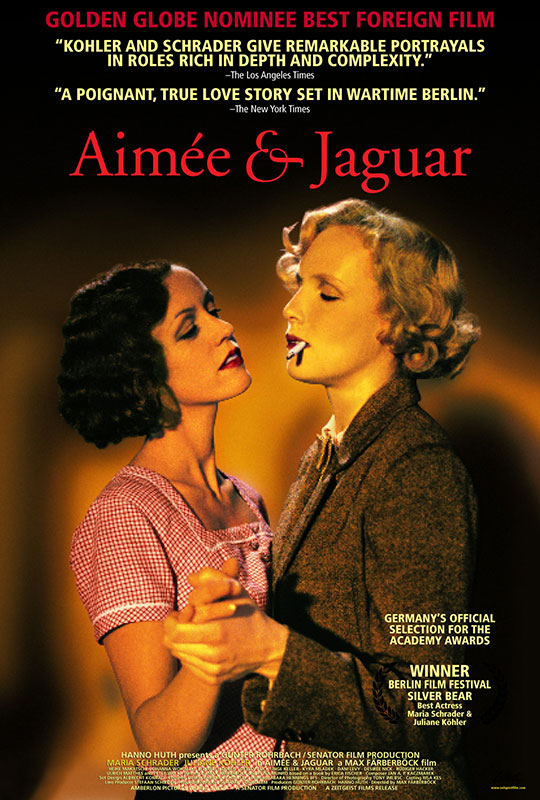 In 1943, while the Allies are bombing Berlin and the Gestapo is purging the capital of Jews, a dangerous love affair blossoms between two women. One of them, Lilly Wust (NOWHERE IN AFRICA's Juliane Köhler), married and the mother of four sons, enjoys the privileges of her stature as an exemplar of Nazi motherhood. For her, this affair will be the most decisive experience of her life. For the other woman, Felice Schragenheim (Maria Schrader), a Jewess and member of the underground, their love fuels her with the hope that she will survive.
A half-century later, Lilly Wust told her incredible story to writer Erica Fischer, and the book, AIMÉE & JAGUAR, first published in 1994 immediately became a bestseller and has since been translated into eleven languages. Max Färberböck's debut film, based on Fischer's book, is the true story of this extraordinary relationship. The film was nominated for a 1999 Golden Globe Award and was Germany's submission for the Best Foreign Language Film Oscar. Both actresses received Silver Bears at the 1999 Berlin International Film Festival for their portrayals of "Aimée" and "Jaguar".
See also
NOWHERE IN AFRICA
Max Färberböck
After studying at film school in Munich, Max Färberböck first worked for Constantin Film, and then as assistant and dramaturge for Peter Zadek at the Schauspielhaus Theatre in Hamburg. He directed plays at theatres in Hamburg, Heidelberg and Cologne, was the director and co-author of several episodes in the €œFahnder€ TV- series, until he began to write and direct made-for-television movies.
His films include Schlafende Hunde, Einer zahlt immer, Bella Block—­Die Kommissarin and Bella Block—­Liebestod. He has won the German Telestar prize three times, the Television prize of the German Academy of Dramatic Arts twice, the Bavarian Television Prize and the Adolf-Grimme-Prize in gold. AIMɉE & JAGUAR was his first feature film.


Felice Schragenheim (Jaguar) - Maria Schrader
Lilly Wust (Aimée) - Juliane Köhler
Ilse - Johanna Wokalek
Klärchen - Heike Makatsch
Lotte - Elisabeth Degen
Günther Wust - Detlev Buck
Lilly (today) - Inge Keller
Ilse (today) - Kyra Mladeck
Mrs. Jäger - Margit Bendokat
Werner Lause - Jochen Stern
Editor in chief Keller - Peter Weck
Stefan Schmidt - H. C. Blumenberg
Father Kappler - Klaus Manchen
Mother Kappler - Sarah Camp
Erika - Desirée Nick
Maria - Patrizia Moresco
Marlene - Karin Friesecke
Fritz Borchert - Dani Levy
Grandma Hulda - Lya Dulitzkaya
Mr. Ude - Klaus Koennecke
Mrs. Ude - Barbara Focke
Tanja - Dorkas Kiefer
Conductor - Werner Rehm
Ernst Biermösl - Rüdiger Hacker
Mr. Pohl - Peer Jäger
Mrs. Pohl - Anette Felber
Lieutenant - Bastian Trost
Blonde Woman - Rosel Zech
Brummer - Carl Heinz Choynski
Eckert - Ulrich Matthes

Directed by Max Färberböck
Written by Max Färberböck and Rona Munro
based on the book by Erica Fischer
Producers Günter Rohrbach and Hanno Huth
Associate Producer Gerhard von Halem
Line Producer Stefaan Schieder
Production Manager Mathias Schwerbrock
Director of Photography Tony Imi Bsc
Sound Benjamin Schubert
Editor Barbara Hennings
Set Design Albrecht Konrad and Uli Hanisch
Costume Designer Barbara Baum
Make up and Hair Gerlinde Kunz, Gerhard Nemetz and Horst Allert
Casting Risa Kes Casting
Still photography Jürgen Olczyk
Composer Jan A. P. Kaczmarek
Visual Effects FuturEffects - Frank Schlegel and Morton McAdams
Mix Michael Kranz
Sound Design Hubert Bartholomae and Fritz Dosch

AIMÉE & JAGUAR was shot over a period of 56 days at the Everest Studios in Cologne-Godorf, and on location in North Rhine Westphalia, Berlin and Wroclaw. Editing and visual post-production took place in Hamburg, sound mixing in Munich.

The film was funded by the Filmboard Berlin Brandenburg, the Filmstiftung of North Rhine Westphalia, the FilmFernsehFonds of Bavaria, the FilmFörderung of Hamburg and the Film funding department of the German Ministry of the Interior